Organic Mass Spectrometry
Gas chromatography/mass spectrometry (GC/MS) is an analytical method that combines the separative features of gas-chromatography with the identification capabilities of mass spectrometry to identify unknown organics in a sample. It is a natural complement to standard IVA® testing.
GC/MS testing allows for comprehensive testing of a variety of different substances and sample matrices, from individual compounds to complex mixtures and polymers, offering a level of sensitivity, speed and analysis that cannot be beat. ORS offers organic mass spectrometry testing services and method development services to clients across a variety of industries and a wide range of products.
Oneida's GC/MS analysis services can be performed via Static Headspace, solvent extraction and direct injection, direct air injection, residual solvent analysis, gas cylinder analysis, IVA® of hermetic devices, and outgassing of samples sealed in ampoules. Testing is qualitative, semi-quantitative, and can be customized to suit your analytical needs. Testing capabilities and a partial list of applications are presented below.
Capabilities/Applications
Gas Chromatography/Mass Spectrometry (GC/MS): Common applications of ORS' GC/MC analysis services include contamination identification, material outgassing studies, purity determination, and identification of "unknown" compounds in bulk organics.
Internal Vapor Analysis® Gas Chromatography/Mass Spectrometry (IVA®/GC/MS): Used for the analysis of organic constituents in the cavity of hermetic packages and ampoules, identifying of volatile and semi-volatile organics. Package volumes as low as 8 nL can be tested.
Request a GC/MS Demo or Follow-Up Call
These test results for the device shown above demonstrate ORS's ability to test ultra-small sample sizes with superb detection limits and instrument precision. An S/N of 3 to 6 is generally considered acceptable for trace-level work. Our S/N at 8nL is >113!
This shows our superb system sensitivity for parts totaling 8nL in cavity volume. Blue trace is system background as detected by analyzing a "System Blank." Black trace is sample. Note the reproducibility of background peaks, with precise retention time and intensity repeatability. System cycle time is roughly 45 minutes, with a 34-minute GC analytical run. (Samples were tested sequentially ~45 minutes apart).
NIST Library Search results for peak at ~10.78 minutes indicating Octamethylcyclotetrasiloxane, 89% Match Quality
Material Outgassing Studies
Materials of Construction (for satellites, spacecraft, etc.)
Adhesives/attach materials
Solder flux/residues
Metal packaging
Plastics
Silicones
O-Rings/gaskets
Packaging/shipping materials
Example of why clients would want to test their materials—manufacturer claims this product is stable to 750C. We tested at 450C. Arrows indicate outgassed component deposition on inner ampule surfaces after pre-baking at 450C (Product is a "Superconductive Oil-less Fluoropolymer" that the manufacturer claimed was "Stable to 750C"). Appears to be 3 different deposited components, with different appearances.
Test results for sample above. Black trace is sample Total Ion Chromatogram, indicating saturation-level outgassing. Blue trace is System Blank/Background.

More interesting chemistry from this sample
Sample was also analyzed by standard Internal Vapor Analysis (IVA®), where no Oxygen was detected, even though the ampule was sealed in room air.
Essentially 0.18 g sample consumed all of the O2 in ampule
When re-analyzed at a lower mass, SO2 (Sulfur dioxide) was detected and O2 was not completely consumed. SO2 is corrosive and toxic
If H2 is also outgassed/ingressed, risk of H2SO4 (Sulfuric acid) produced
Additional risk of HF (Hydrofluoric acid) creation since the product is a fluoropolymer. HF is extremely difficult to detect, but will attack glass, metals, oxides, etc. Definitely a problem.
These components will definitely create a corrosive environment, with by products that corrode metal surfaces, and even glass (passivation).
Package Gas (for microelectronics, packaged materials like battery pouches, implantable medical devices and malodors in consumer product packaging)
Contamination
Residual cleaning solvents
Foreign materials
Flux residue
Trapped gases
Package fill gas impurities
Visible residue/spotting
Adhesion issues (de-wetting, bond pulls, voids)
Contamination introduced by ovens/manufacturing equipment
Surface contamination of package materials
Outgassing
Attach materials
"Low outgassing" materials
Chemistry/reactions
Breakdown/degradation
Overstress/temp
Improper/insufficient curing
Normal degassing from materials over time
Permeation through semi-permeable materials
Field Failure—Optical Switch IC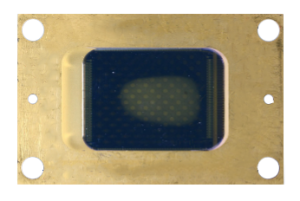 What if there were no window on this device? Condensation would occur on the coolest surface and not be known until performance issues occurred.
"Cured" epoxy outgassed at solder reflow when attaching to a device
Outgassed organics condensed on the "cold spot," which was the glass window of this device
-81% Butyrolactone and ~14% Propene not generally identified by standard RGA
Field Failure—TO5 Accelerometer

Ongoing thermostat failure that traditional RGA did not help identify the cause
Fluorocarbon polymer breakdown, Aldehydes
Most likely polymer breakdown since smaller fragments of fluorocarbons detected
Client knew there were potential issues removing flux residue.
Residual solvents detected, as well as terpenes from the solder flux.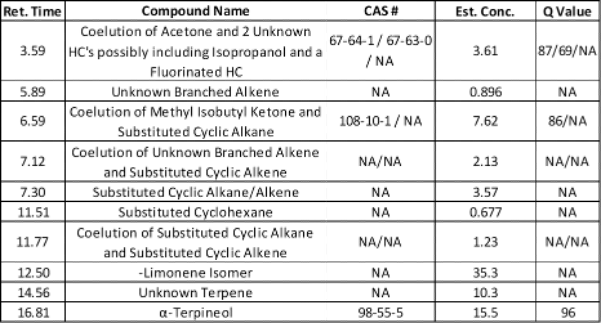 Cleaning process used to remove residual flux. Residue present from both the cleaning solution AND the flux!
Surface contamination
Wipe samples
Surface cleanliness
Visible contamination
Oven surfaces
Compare to bulk materials for "fingerprint"
Silicones, backstreamed oils, etc.
Static Headspace/Gas Chromatography/Mass Spectrometry: A useful technique for the analysis of volatile and semi-volatile organics off-gassing from low concentration components in bulk materials, including solid and liquid matrices.
Direct Air Injection/Residual Solvent Analysis/Gas Cylinder Analysis/Gas Chromatography/Mass Spectrometry: Used to analyze components of gas phase samples for volatile and semi-volatile organics. Incorporates Liquid N2 cryofocus for improved chromatography and sensitivity. Samples can be whole air/gas samples collected in gas sampling cylinders provided by ORS, pharmaceutical products in hermetic packages, or other suitable containers containing gaseous samples.
Test Method
MEL-1080: Identification of Unknown Organic Compounds by IVA®/GC/MS
This test method is used to identify unknown organic compounds that may be detected by IVA® test methods but may not be conclusively identified due to the trace quantity or complexity of the mass spectra. Standard hermetic devices, gas cylinders or individual materials sealed in glass ampoules may be analyzed. The technique is useful to understand the trace contaminants, chemical processes of material outgassing and chemical reactions from environmental stress for long-term reliability of critical components:
Test Conditions
Time/Temperature Preconditioning
Variable Pre-bake Temperature (up to 1100°C)
Adjustable AMU Scan Range and Speed
Variable Data Acquisition Time
Flexibility in Sample Puncture Location
The Format of GC/MS IVA® Results
Semi-Quantitative Results
Discussion and Summary of analysis
Tentatively Identified Compounds (TIC) Summary page using NIST'11 Mass Spectral Database (>350,000 spectra)
Estimated Concentrations, Chemical name and Chemical Abstract Services (CAS) identifications
Chromatograms and overlays of Chromatograms and Control samples highlighting areas of interest
Individual peak mass spectra available
Customized report formats available. Call to discuss options.
GC/MS Test Capabilities
PPB range sensitivity, PPT sensitivity achievable
Typical amu range 35-550. Instrument capability of 1.6 to 1050 amu
Customized instrument temperature programs
Scan, SIM (Select Ion Monitoring), and synchronous SIM/Scan capability to improve detection limits for specific compounds of interest
EI (electron impact)
Flexibility in sample holding temperature during analysis
Flexibility in sample pre-bake times
Flexibility in test protocol
Gas Analysis Services Customized to Fit Your Needs
Our experienced technical staff is available to discuss your specific application and recommend a test plan that will fit your individual needs. Contact us at 1 (855) ORS LABS.