In the event of a hermetic failure, Leak Site Identification can provide essential information to determine the corrective action required to mitigate further device complications. ORS offers a wide variety of leak site identification techniques; following device inspection ORS will provide a full consultation and test plan to assist you in determining the failure mode. Just a few of our test techniques are described below, for full discussion of our leak site identification capabilities contact Karrie Ardolino.
Helium Spray Sniff Testing is a technique that can be utilized to isolate hermetic leaks on open cavity packages as well as packages subjected to IVA® testing. Devices are fixtured so as to draw a vacuum from the internal cavity into the leak detector through the open cavity or through a puncture site of the IVA® test site. Typically, a helium spray creates a small envelope of helium in the proximity of a leak site region. The helium is drawn through the leak site and into the instrument giving an indication of the leak site location. Readings would be measured and recorded. This method works well with hermetic leak failures in the 10-4 to 10-8 atm cc/sec range.
Leak Site Identification is also available through the Kr-85 Hermeticity Testing. Once a non-hermetic package has been identified through Kr-85 testing, a hand held gamma detector can be used to find radiation escaping through the leak site region.
Fluorescent Dye Impregnation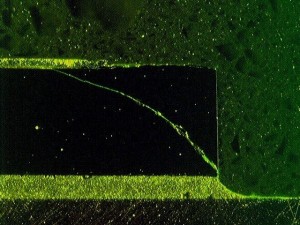 Fluorescent dye impregnation is one method utilized to identify leak site regions and characterize the physical attributes of the ingress pathways to improve package sealing processes. This technique also eliminates the problem of misinterpretation when cross-sectioning fragile materials.