The Ion Milling services offered at ORS is a material ablation process that is best suited as a final preparation treatment of metallurgical cross-sections prepared for optical inspection or scanning electron observation. It is especially useful for softer metals susceptible to ductile smearing. The process delineates intermetallic layers, alloyed formations and grain structure in solder alloys and metals that may not be revealed by traditional sectioning methods.
Our Ion Milling system is a bench top unit designed to handle round cross-sections that are rotated while an Ar+ beam with diameters of up to 5 mm sputters the sample surface. An example of a suitable application is the bi-metallic bonding systems of gold to aluminum bonding .  This application known as Flat milling was achieved by mechanically grinding and polishing utilizing standard metallographic techniques into the intermetallic of the bond or micro-weld feature then Ion milled.
The Ion Milling process removes the surface material, eliminating mechanical deformation or smearing, revealing the actual surface structure. Ion Milling can also be performed as a cross-sectioning tool with milling rates of 300 µm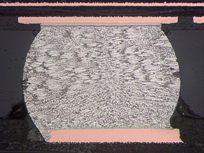 per hour in silicon without inducing brittle fractures or mechanical stresses caused by conventional sectioning techniques.
As Ion Milling is a type of sputtering, ablation rates will vary with crystal orientation and elemental composition providing distinguishable delineations in the surface topography without chemical etching.